Preview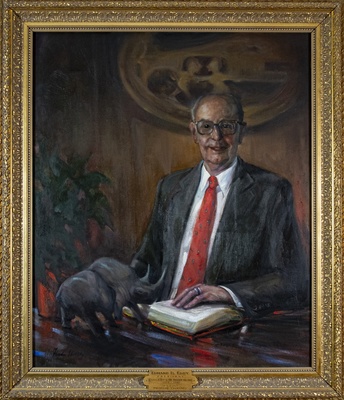 Description
Portrait of Edward D. "Ted" Eddy, President of the University of Rhode Island from 1983 to 1991. The portrait hung in Green Hall on the URI Kingston campus until December 2021, and now resides in the University Libraries' Distinctive Collections.
President Eddy, known as "Ted" to many, was successful in enhancing the University's image nationally and abroad during his tenure. He was instrumental in expanding the Graduate School of Oceanography and improving its programs and research initiatives. He also secured a ten-year accreditation for the University from the New England Association of Schools and Colleges. He fought for increased faculty wages, arguing that improved salaries would improve the University's curriculum and status. In general, President Eddy focused his efforts on developing a budget strategy to develop the University's potential, resolving issues related to decreased undergraduate enrollment and retention, cultivating the University's then nearly 76,000 alumni base, and promoting the uniqueness of the University and its excellence.
An authority on the nation's land grant college system, President Eddy came to URI with 29 years of higher education experience. He had served as president, vice president and in a variety of universities including Pennsylvania State University, Chatham College in Pittsburgh and the University of New Hampshire. President Eddy received his Bachelors and Ph.D. degrees in humanities at Cornell University and took a Masters of Divinity at Yale University.
On May 17, 1998 President Eddy and his wife, Mary, received honorary degrees from the University of Rhode Island in recognition of their valuable support and active participation in the improvement of public education in Rhode Island.
Date of Electronic Image
2021