Preview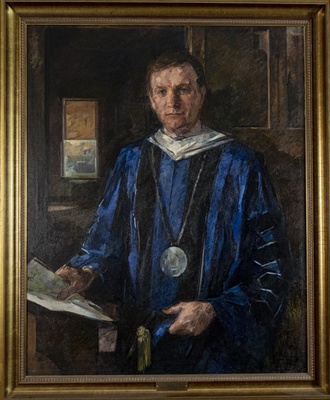 Description
Portrait of Frank Newman, President of the University of Rhode Island from 1974 to 1983. The portrait hung in Green Hall on the URI Kingston campus until December 2021, and now resides in the University Libraries' Distinctive Collections.
President Frank Newman navigated the University through troubled times and reversed a tide of declining enrollment. He created the College of Human Science and Services, revamped the general education curriculum to emphasize global perspectives, launched the research vessel Endeavor, and recognized the importance of higher education in the lives of older students. President Newman was considered a visionary in the world of education and his influence continued after he left the University. He was the lead author of the Newman Report, an influential document filled with innovative ideas that served as a national blueprint for federal legislation related to public education. He served as president of the Education Commission of the States, a non-profit, nonpartisan organization that helps governors, legislators and other state education leaders develop and implement policies that improve education.
President Newman earned a Bachelor of Arts degree in naval science and economics and a Bachelor of Science in electrical engineering from Brown University. He earned an M.B.A. from Columbia, worked on a P.h.D at Stanford, and held three honorary doctoral degrees.
The University of Rhode Island honored its eighth president in 2002 by naming the Office of Admission building on 14 Upper College Road in his honor.
Date of Electronic Image
2021