Preview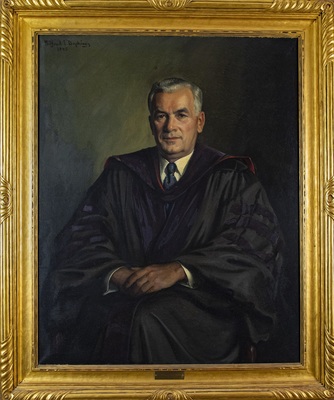 Description
Portrait of Raymond George Bressler, President of the University of Rhode Island from 1931 to 1940. The portrait hung in Green Hall on the URI Kingston campus until December 2021, and now resides in the University Libraries' Distinctive Collections.
Raymond George Bressler was approached about the presidency at the Rhode Island State College in 1930. In April 1931, at the age of 43, he accepted the position, relieving then Interim President John Barlow. Prior to his arrival in Rhode Island, Bressler had been Deputy Secretary of Agriculture for the state of Pennsylvania, a position he had held since 1927. Previously, he had been an English professor at Texas A. and M., chairman of the Department of Rural Education Extension at the University of Texas, and Vice Dean of Agriculture at Pennsylvania State College.
Bressler served as president during the Depression. He was a very energetic and viewed the College in concrete terms of buildings and enrollments. Although he had no real philosophical agenda to promote the College, he believed that as a Land Grant College, Rhode Island State College had an obligation to make higher education accessible to everyone. He reorganized the College to provide better structure and a clearer chain of command. He was very popular with students and the general public.
Born in 1887 on a farm in Halifax, Pa., Bressler earned a B.A. from Valparaiso University, a M.A. from Wofford College, a B.S. from Texas A. and M., and a M.S. from the University of Wisconsin. In 1931, when he was hired for the presidency of Rhode Island State College, he had just completed the residency and examination requirements for a Ph.D. at Teachers College, Columbia.
Date of Electronic Image
2021