Preview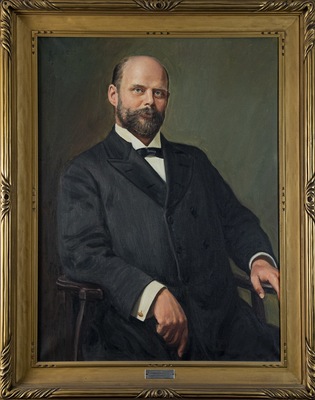 Description
Portrait of John Hosea Washburn, president of the University of Rhode Island from 1892 to 1902. The portrait hung in Green Hall on the URI Kingston campus until December 2021, and now resides in the University Libraries' Distinctive Collections.
John H. Washburn was appointed to be principal of the Rhode Island Agricultural School in 1889. The land for the college had been appropriated for Rhode Island with the passage of the Morrill Act of 1862. Washburn's first order of business was to wrest the appropriation of land-grant status from Brown University for the Rhode Island Agricultural School to become the official land-grant institution in Rhode Island. In 1892, Washburn became the first president of the Rhode Island College of Agriculture and Mechanical Arts when the General Assembly legislated the institution to college rank.
He had earned a Ph.D. at the University of Gattingen, Germany, in addition to degrees from the Massachusetts Agricultural College. Before becoming president, Washburn served as a Professor of chemistry at the Connecticut Agricultural College in Storrs, as the head of the Rhode Island Reform School in Providence and as a Massachusetts public school teacher.
Date of Electronic Image
2021